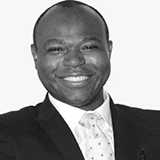 A pioneering business evolutionist with extensive experience in the capital-raising space in South Africa, Ntuthuko Zwane (Teekay) is passionate about prosperity. He raised more than R500M for businesses and households in just under a decade while working in the Banking industry and paid out the highest in property-related advances for Absa Private Bank in 2014. As a Credit/Business Manager of the Future, Teekay holds training workshops to help and serve the South African community alongside consulting with his business clients.
Teekay fulfils R1M+ funding goals for companies with turnover of R4M+ a year and is recognized for being a strong ally to companies having the resolve to reach goals, overcome obstacles and achieve sustainable growth.
Agile in his thinking and having a knack for analysis and multi-year planning, Teekay's education, significant knowledge of the financing process, and expertise in communications have contributed to him being a sought-after advisor to many companies and individuals.
Teekay's approach to serving and helping his clients through the work of HMZ Capital is founded on knowing the challenges companies face and having the ability to take the action required for lasting and positive change.
Teekay's other activities include being the Chairperson of Economic affairs at the Durban Chamber of Commerce and Industry. He also is a Business Trainer and Mentor for the Paradigm shift Programme at the Grace Family Church in Umhlanga. He is also in the final stages of securing Business mentorship roles with very credible and established Enterprise and Supplier Development programmes around South Africa.