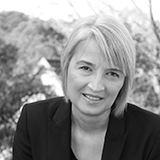 Dagmar is passionate about business, service and commitment, and is the founder of Funding Connection – a company that works with a group of experts in business development, marketing and coaching, to offer tailor-made service to guide and assist you in business funding. She holds a Master's Degree in Economics from the University of Kiel, Germany. Her expertise will guide you and analyse the opportunities for your business establishment and upgrading.
After a decade in the service and retail industry she worked at the German Economic Development Corporation in Germany as a Project Manager, where she offered support to start-ups as well as existing companies. She also lectured and created workshops on various business topics. During her corporate career she offered a variety of internships and apprenticeships for disadvantaged young people. She was instrumental in starting up various restaurants, and due to her reputation in developing successful business concepts, she was approached by numerous businesses, including the Deutsche Telekom for assistance.
In South Africa she has worked with many companies helping them to access grants and loans from local and international organisations and government departments. She is also involved in the founding of cooperatives in rural communities and helps them to access funding by preparing and submitting all necessary documentation including funding proposals.