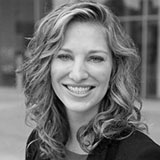 Aunnie has extensive experience in both the mainstream and the impact-oriented finance sectors in North America, Europe, Africa and Asia, a B.A. in International Political Economy from DePauw University and an M.B.A. from the University of Oxford's Saïd Business School. As the founder of Intelligent Impact, an advisor to the Bertha Centre for Social Innovation at the University of Cape Town's Graduate School of Business and Associate Fellow at the University of Oxford's Saïd Business School, Aunnie spends her time broadly across three areas:
– Working to build an AI + Impact prototype to facilitate access to reliable and actionable data on funding / creating / incubating / assessing impact.
– Advising on Innovative Finance projects including developing a South African Impact Investing National Advisory Board, a Green Investment Bank, Social Impact – Bonds / Development Impact Bonds, a Green Outcomes Funds and others.
– Consulting to a range of organisations including start-ups, financial intermediaries, investment funds, family offices and foundations on innovative finance and social investment strategies, and,
– Researching and lecturing in innovative finance, social finance and impact investment.