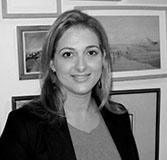 Alexandra Fraser is passionate about building a vibrant, sustainable high growth entrepreneurial ecosystem and culture in South Africa to drive economic growth and job creation. She is deeply embedded and connected with the entrepreneurial, investment and innovation communities through her involvement with Silicon Cape and as an independent strategic consultant.
Alex has over a decade of experience in early stage investment space and works with a wide variety of tech startups to growth their businesses, raise funding, and access new customers and markets. She also works with corporate programs and government departments to develop strategic partnerships and source innovative opportunities as well as to design and run acceleration programs.
Alex holds a BSc in Molecular Biology and a Post Graduate Diploma in Entrepreneurship from the University of Cape Town, as well as a Masters Degree in International Business and Emerging Markets from the University of Edinburgh. Alex has also completed short courses on strategy, IP protection, marketing, communication, project management, digital money and currencies. She is also a founding member of ABAN (African Business Angels Network), is a regular guest lecturer at universities and business schools, and is a mentor for a number of start-up programs including TechStars.